The Vietnam Agricultural Machinery Market is Segmented into tractors, rice transplanters, harvesting machinery, and haying and forage machinery.
Market Snapshot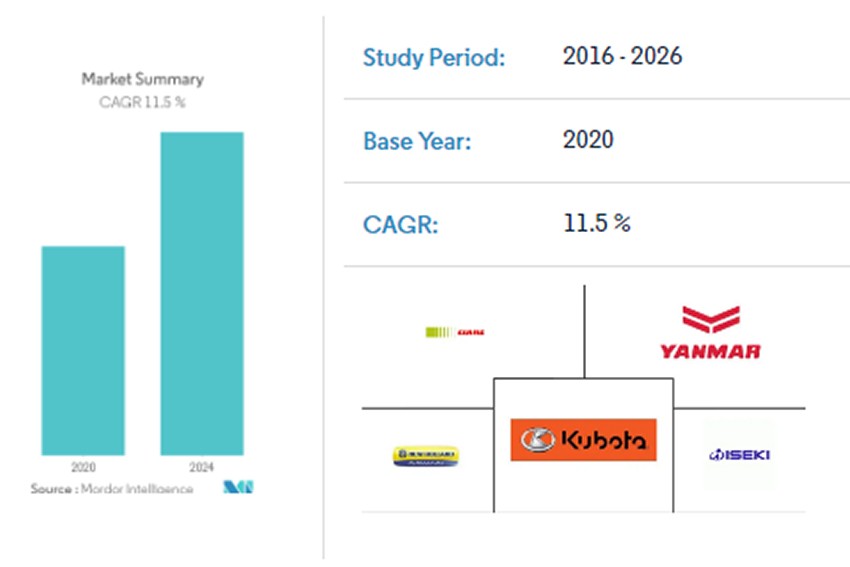 Market Overview
The Vietnamese Agricultural Machinery Market is projected to register a CAGR of 11.5% during the forecast period (2020-2025). The factors that are driving this market are population growth, urbanization, and higher productivity demand with the shrinking agricultural land, which have led to the growth in demand for agricultural machinery. Rice, maize, and sugarcane are the most cultivated crops, with rice being the most mechanized crop. Most than 70% of the cultivated area under Vietnam is mechanized. To make these expensive machinery affordable for farmers, the government is implanting supporting schemes. This is one of the major factors driving the growth of the market. Custom hiring of agriculture machinery can be observed in Vietnam as the local production of agriculture machinery is low. Agricultural co-operatives and private enterprises are the providers of machinery for hire. Organizations that offer hiring services have efficient machinery in tillage, harvesting, threshing, drying, storage of grains, and transportation. These organizations are concentrated especially in the Mekong River Delta and Red River Delta.
Scope of the Report
Agricultural machinery includes harvesting machinery, tractors, sprayer, transplanter, tractor implements, and irrigation systems among others. The market studied has been segmented by different types of agricultural machinery.
Key Market Trends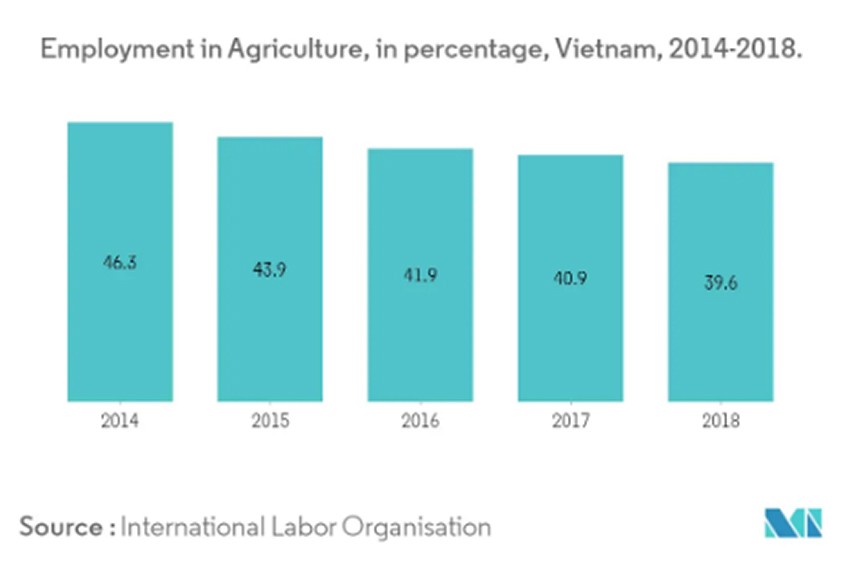 Tractors Dominate the Vietnam Agricultural Machinery Market
The tractor segment is the major segment of the Vietnamese agricultural machinery market and accounts for nearly half of the market share. The segment was valued at USD 40.9 million in 2018 and is projected to register a CAGR of 11.5% during the forecast period. According to IFPRI, in 2016, there total of 532,600 tractors, among which 294,600 were two-wheel tractors with less than 15 HP; 221,300 were four-wheel tractors with 15-35 HP; and 16,700 were four-wheel tractors with more than 35 HP. Technological advancement for developing more efficient products, while keeping in mind the country-specific requirements, will provide opportunities for the future growth of the sector.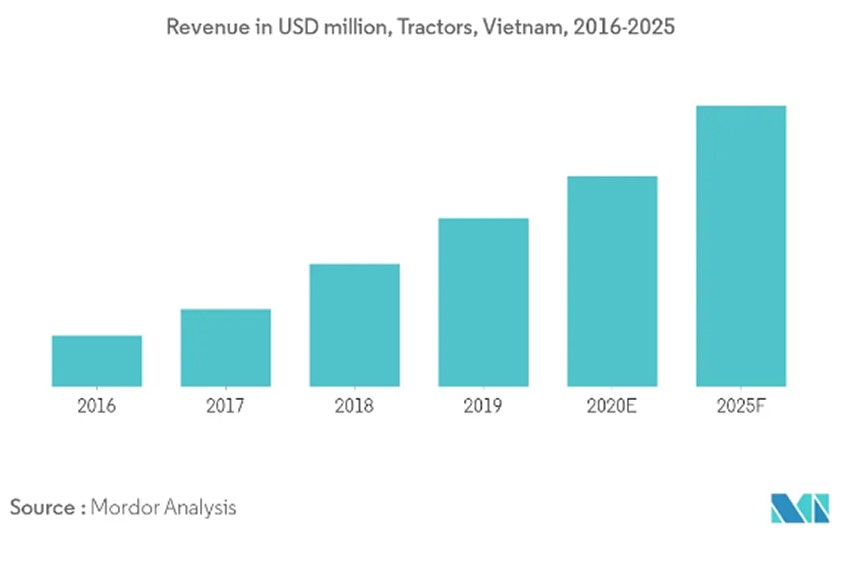 Competitive Landscape
The Vietnamese agricultural machinery market is ready for investment and various companies are adopting different strategies to increase their market presence in this market in Vietnam. Kubota, CNH, and VEAM are the largest companies that provide combine harvesters in the Vietnamese agricultural machinery market. VEAM is the largest domestic supplier for tractors in Vietnam, Thaco recently opened a new plant in Vietnam, with the aim of increasing its domestic market share in agricultural machinery. Kubota is the largest manufacturer and distributor of rice transplanters in Vietnam. Local companies like HAMCO and Viện cơ điện nông nghiệp và Công nghệ sau thu hoạch (VIAEP) are very popular among farmers in Vietnam as these companies rely more upon direct sales rather than distributing products through agents and third-party distributors.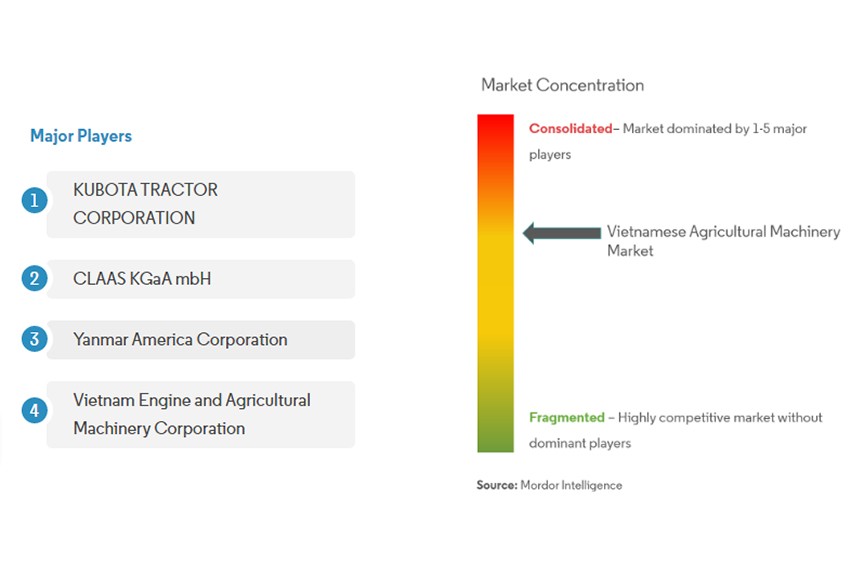 Table Of Contents
1. INTRODUCTION

1.1 Study Deliverables

1.2 Study Assumptions

1.3 Scope of the Study

2. RESEARCH METHODOLOGY

3. EXECUTIVE SUMMARY

4. MARKET DYNAMICS

4.1 Market Overview

4.2 Introduction to Market Drivers & Restraints

4.3 Market Drivers

4.4 Market Restraints

4.5 Porter's Five Forces Analysis

4.5.1 Bargaining Power of Suppliers

4.5.2 Bargaining Power of Buyers

4.5.3 Threat of New Entrants

4.5.4 Threat of Substitutes

4.5.5 Intensity of Competitive Rivalry

5. MARKET SEGMENTATION

5.1 Tractors

5.1.1 Engine Power

5.1.1.1 Less than 15 HP

5.1.1.2 15 to 30 HP

5.1.1.3 31 to 45 HP

5.1.1.4 46-75 HP

5.1.1.5 More than 75 HP

5.2 Rice Transplanters

5.3 Harvesting Machinery

5.4 Haying & Forage Machinery

6. COMPETITIVE LANDSCAPE

6.1 Most Adopted Strategies

6.2 Market Share Analysis

6.3 Company Profiles

6.3.1 Kubota Corporation

6.3.2 CLAAS KGaA GmbH

6.3.3 Vietnam Engine and Agricultural Machinery Corporation (VEAM)

6.3.4 Yanmar Vietnam

6.3.5 Vietnam Agrotech Co., Ltd

6.3.6 CNH Industrial

6.3.7 ShanDong Huaxin Machinery Co. Ltd.

6.3.8 Iseki Corporation

6.3.9 Truong Hai Auto Corporation (THACO)

6.3.10 Tong Yang Moolsan Company Limited

7. MARKET OPPORTUNITIES & FUTURE TRENDS