Prime Minister Nguyễn Xuân Phúc has requested ministries, localities and businesses strengthen co-operation to develop agricultural mechanisation and processing of agricultural products.
Speaking at an online conference with ministries, sectors and localities on promoting the development of the agricultural product processing industry and mechanisation held in Hà Nội on Friday, PM Phúc said Việt Nam had not yet focused on developing those fields.
Việt Nam aims to rank among the world's top 15 most developed agricultural countries and become a global hub for agricultural logistics and processing.
Meanwhile, at present, agriculture has used a large labour force, mainly unskilled labour and has a low level of mechanisation, leading to low productivity.
Therefore, "the State will develop policies to remove difficulties and promote the development of those fields," he said.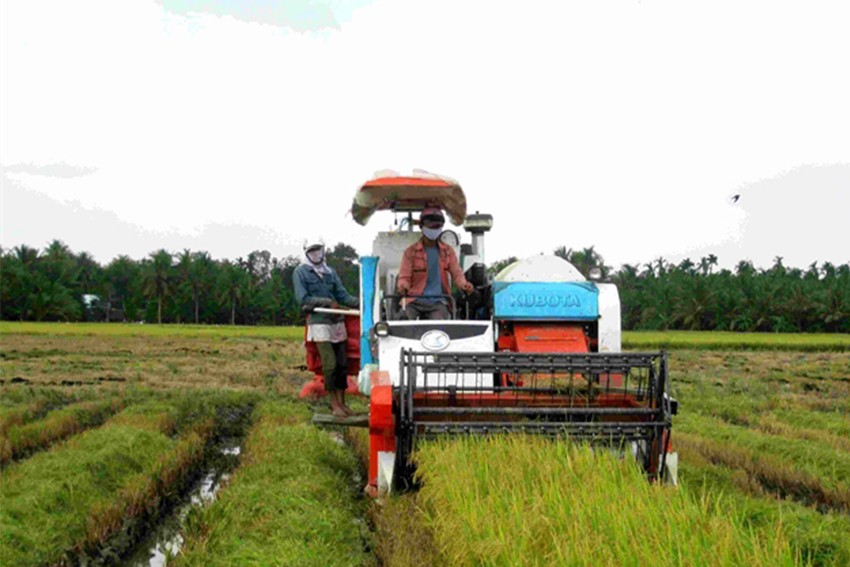 Việt Nam will promote agricultural mechanisation for sustainable development. Photo tintucmientay.vn
The Prime Minister also urged the Ministry of Agriculture and Rural Development to submit to him a strategy on developing mechanisation and processing in the agricultural sector by 2030.
This ministry must also submit to the PM plans on developing the processing industry for vegetables, fruits, seafood, timber and wood products. Those plans would help Việt Nam become one of the five leading producers of those products globally, he said.
Meanwhile, the Government would amend existing decrees to promote mechanisation in agriculture.
The Ministry of Industry and Trade must also implement a strategy to develop Việt Nam's mechanical engineering industry, including tractors and machines for cultivation, preservation and processing of agricultural, forestry and fishery products.
The Prime Minister also asked credit institutions to have more funding sources for rural and agricultural development, especially for enterprises and projects in the fields of agricultural mechanisation and farming, forestry and fishery product processing.
PM Phúc said localities must find measures to develop organic agriculture using high technology.
At the conference, Minister of Agriculture and Rural Development Nguyễn Xuân Cường said: "Việt Nam must enhance agricultural product processing and agricultural mechanisation to increase added value and competitiveness of farming products."
The application of science and technology for agricultural production and quality management would ensure control of quality, food safety and traceability for farming products, Cường said.
The quality of human resources for the agricultural product processing industry and agricultural mechanisation should be improved, he said.
According to the minister, the sector also needs to focus on developing clusters for production and processing of agricultural products in localities, especially regions with large agricultural output.
At present, the rate of mechanisation has reached 94 per cent in the stage of preparing land for production, 42 per cent in the sowing and planting stage, 77 per cent in the stage of breeding animals and planting trees and 65 per cent in the harvest stage.
Many localities have formed and developed agricultural production and processing chains. Now, Việt Nam has about 7,500 enterprises of processing agricultural products with medium- and large-scales. - VNS
Source: https://vietnamnews.vn/